Easy homemade wheat bread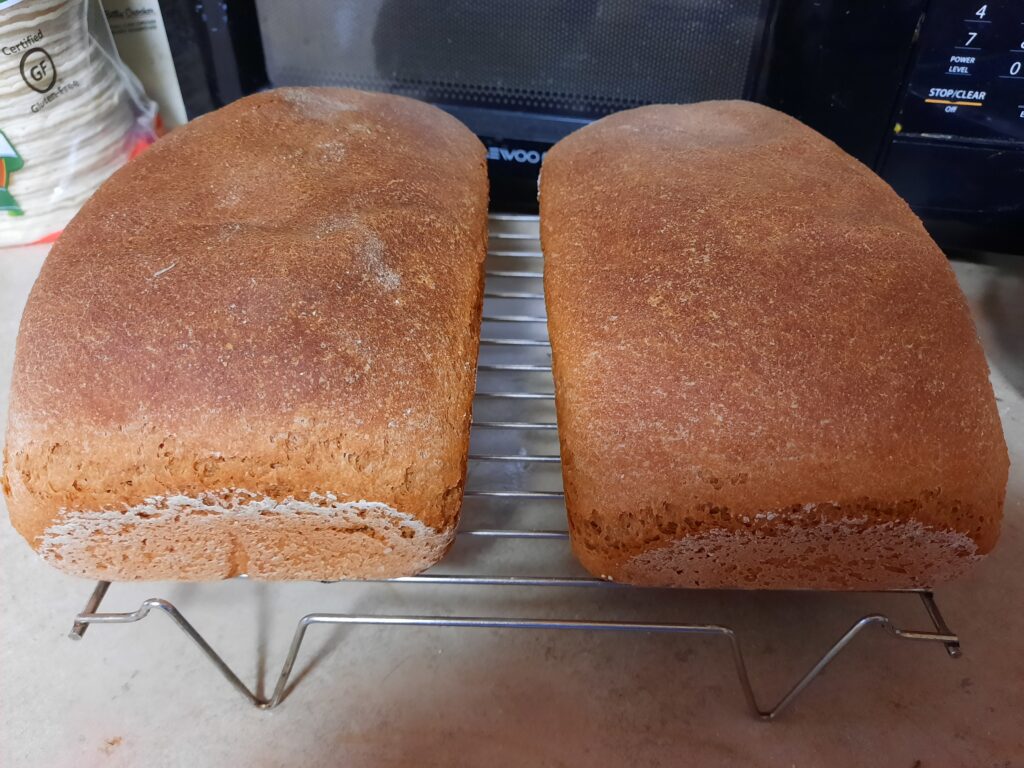 When I was a girl my aunt made her family bread every week. I remember watching and helping her as she ground the wheat to make the bread and helping get it ready to put in the oven. I was fascinated at the process and enjoyed every minute of helping.
There is something special about making things in the old way from start to finish that is really satisfying. Hundreds of years ago if a family wanted bread the mother, or mothers and daughters made it for them. They didn't have the luxury of running to the store to purchase ready made bread. And in those days I would assume the homemade bread was better quality than the bread today made in factories in bulk.
As an adult I would reflect back on the time with my aunt making bread and I decided that I wanted to do it too. I would read a lot of books on homemaking, simple living and things of that nature, and one of the ladies in the book baked all her family bread as well.
I purchased an electric wheat grinder, a bosch mixer, and set up an account with a food co-op that delivered grocery items every month and started ordering 50 lb bags of hard red wheat. I wanted organic because I wanted food free from pesticides. I also learned that a lot of the nutrition of wheat oxidizes in 24 hours after grinding the wheat so I wanted to grind what I needed and use it right away.
I found a wonderful recipe that I still use today. I love the way this bread tastes and I believe it to be very healthy.
Items that I use:
Recipe: (makes 2 large, or 3 smaller loaves)
1 cup unbleached flour
6 cups of freshly ground wheat
2 TBSP yeast
1 1/2 tsp salt
1/3 cup cold pressed extra virgin olive oil
2 1/2 cups warm water.
Combine 1 cup of unbleached flour, and 1 cup of the wheat flour with yeast and warm water and let it sponge for at least 15 minutes.
Place either in a bowl if mixing by hand, or in a mixer, add the remaining 5 cups of wheat flour, salt, honey, and olive oil, and add the yeast and flour mixture. Mix by hand and kneed for at least 10 minutes by hand, or if you are using a mixer, mix for 8 minutes.
Form into loaves and place in greased bread pans. Put the loaves into the oven and turn on the oven at 200 degrees for 5 minutes and then turn the oven off and let the bread rise for at least 40 minutes or until doubled in size. Bake at 350 degrees for 40 minutes or until golden brown. Can be frozen.