Ditch soda and try one of these 15 healthy soda alternatives!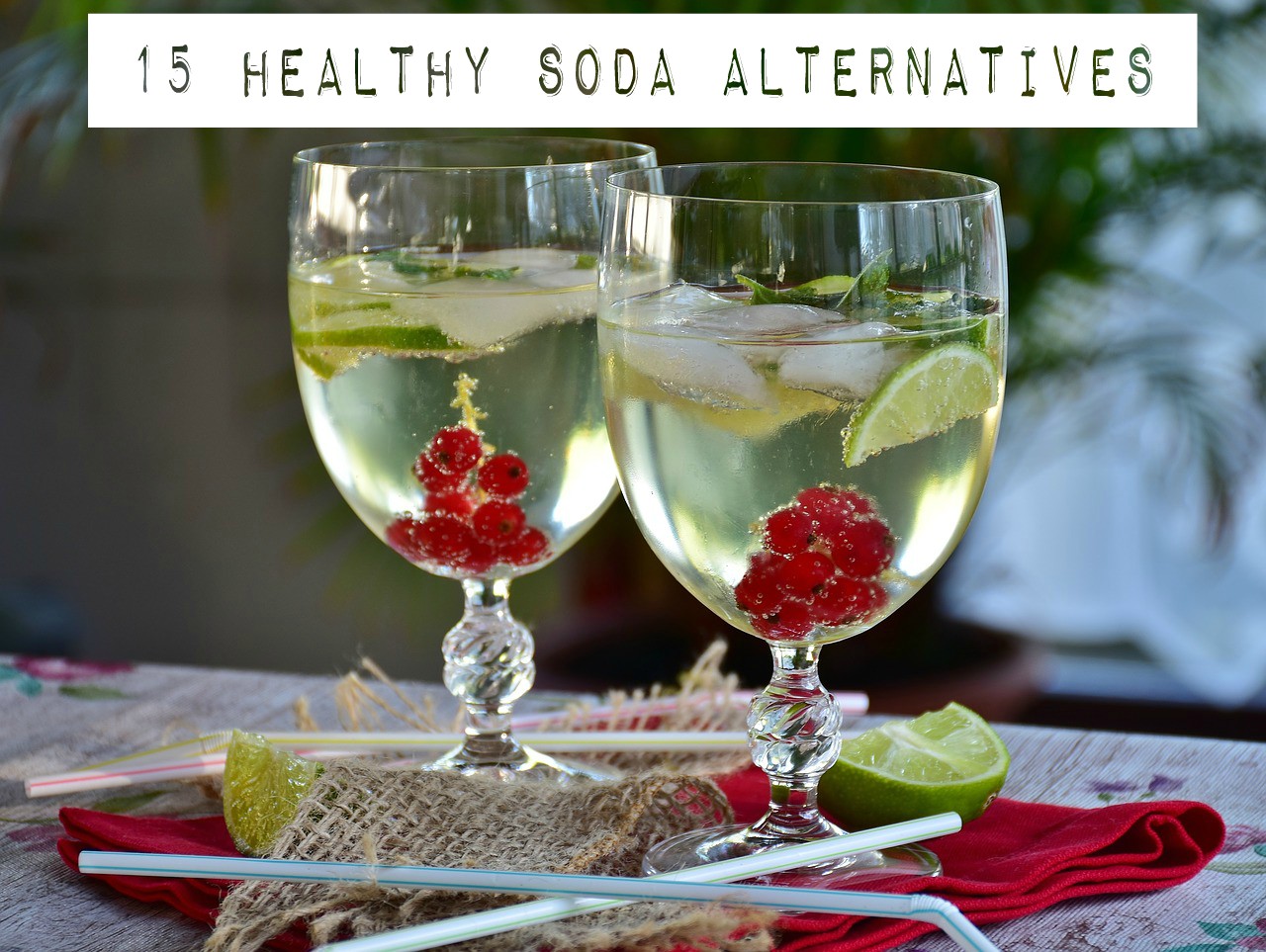 Ok so soda is definatley something most of us love and crave right?  I mean, whats not to love about it?  Its fizzy, sweet and tastes so good!  We have seen continual ads and commercials about soda so much that it has become a regular part of our daily lives.  Unfortunately it is not good for us.
Regular soda has a ton of sugar in it and if you are diabetic that is something that you should avoid.  Studies have shown that drinking 2 or more sugary drinks a day can increase your chance of developing type 2 diabetes by 26%.  Diet soda is even worse because of the artificial sweeteners.  Some of us who try to count calories drink diet soda but studies have shown that people who consume a substantial amount of artificial sweeteners have the same symptoms of ms.
There are many health issues that you may have by regularly consuming soda.  So what do you do to replace soda?  There are many healthy alternatives to soda that you can adopt and make a regular part of your life.
Switchel.  Many of you have never heard of this drink.  It was a regular sumer drink of the American Colonies in the 17th century, and was also a traditional drink in the 19th century served after a hay harvest.  So what exactly is switchel?  Well, there are many versions of it.  This is a regular drink in my home and I make it with water, sliced fresh ginger, apple cider vinegar, and stevia.
Fruit infused water.  This is an easy drink to make and there are so many variations.  A good example would be to take a half gallon jar, and fruit of your choice (blueberries, watermelon, strawberries, pineapple) and put your fruit in the bottom of the jar, then put in some ice, and then fill the jar up with water and place in the refrigerator for a couple hours before serving.
Kombucha.  Kombucha is a fermented drink that has many health benefits.  It starts with a kombucha mother or scoby (some call it a mushroom but its not really a mushroom), water, tea, and either sugar or if you are making Jun Kombucha you will use honey.  You place the ingredients in a jar and ferment for a few days, and then you bottle it again in some self sealing beer bottles with fruit and it goes through a second fermentation process.  After the second fermentation it becomes carbonated just like soda.
Juice seltzer.  This is a super easy drink to make.  You can take seltzer water and mix reguar juice to it, or frozen concentrated juice of your flavor choice.  Its delicious and has that carbonation to it that we enjoy in soda.
Lemon/line seltzer.  This is also easy to make.  Take lemons or limes and slice them thiny and add to some seltzer and ice and enjoy!
Fresh raw juice.  I love fresh juices!  There are so many different types you can make.  If you like plain fruit juices you can make fresh apple juice or you can make a fruit vegetable blend.  Be creative!  Put that juicer you bought to work for you and enjoy some fresh juice and also enjoy the added health benefits from the juices live enzymes, vitamins and minerals.
Iced tea/herba tea.  Sun tea is easy to make and you can make the old fashioned tea or use any type of herbal teas instead to be creative.  I love some sun tea made with raspberry and hibiscus blend.
Hot herbal tea.  There are some teas that are meant to simple enjoy the taste and then there are herbal teas that have added health benefits.  Tea bags are easy to carry along with you to work to enjoy in place of soda or coffee.
Fruit infused sparkling water.  Add some fresh fruit to your seltzer such as fresh berries, pineapple, or any other type of fruit you enjoy.
Coconut water.  Coconut water is delicious, refreshing, and has some natural health benefits.
Herb infused water.  In the summer time I love to go out in my herb garden and cut some fresh mint and place it in a gallon jug with water and let it sit overnight.  Peppermint water is delicious and very refreshing.  There are many other herbs you can use to make your own herb infused water.
Tonic water.  I'm sure there are many variations of health tonics you can make.  Here is an example:  Healthy Metabolism Tonic-2 tsp raw honey, juice of 1 lemon, 1/2 tsp. cayenne pepper, 1 tsp. cinnamon, 1/4 cup apple cider vinegar, 6 or more cups of water depending on your taste.
Fresh lemonade.  Lemonade is something that many people enjoy.  You can also get creative with it.  You can juice your own lemons, or simple use lemon juice you can buy in a store, freeze your own lemons and place them in a blender with water (the added lemon peel has additional health benefits) and then sweeten any of these variations with a sweetener of your choice.  I personally use Stevia in the Raw.
Fruit juice water.  This is delicious and a healthier version of the water enhancers/flavors out there.  Take a can of frozen concentrated juice of your choice and add a couple tablespoons to your water.  You can adjust the amount of frozen juice you use according to your liking.
Water.  Yeah, you knew I had to add water to this list.  Water is healthy for us and our bodies need it to stay hydrated and to help flush out our system.  I know some people don't like water but you can teach yourself to drink it even if you don't like it.
With a little creativity and determination you can replace soda with a healthier alternative.  It may take some time to completely eiminate soda but it can be achieve and you will feel better for it!