Chemical free laundry balls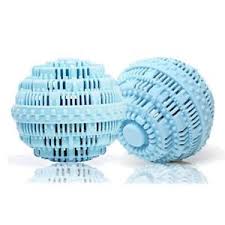 Chemical free laundry balls have been around for many years.  There are many different types of laundry balls and in a wide price range.  Many years ago I had some laundry balls that had some type of blue liquid in them.  I used them for a long time but some how they disappeared.  With my growing concerns about using chemicals in the home I decided to look for some laundry balls again.  I used to make my own laundry detergent and that worked well but you still have to buy the ingredients to make them and one of my goals this year is to make a simple grew water system for my washer to reuse the washer water to water outside plants.  In order to do that I can't have any chemicals or soaps in the wash machine water.
After researching online and on amazon for different types of laundry balls and the price range, I also read the customer reviews on the amazon products.  Some of the laundry balls were quite pricey and some not.  I wanted to find some that were relatively inexpensive to purchase, would last through several washes and had some good customer reviews.
There are many manufacturer claims on how the laundry balls actually work.  I won't go into all the other manufacturers claims on how their laundry balls work.  I am on my second set of Beron Eco Friendly laundry balls 
On the Amazon page, they have 418 customer reviews and have 4 out of 5 stars.   This is the product description:
Made from pure natural mineral,TPE,Allergen-free,For 1500 washings Size:10.5cmx10.5cm Color:Light Blue

Designated use:Compatible with any washing machine,Wash all kinds of clothes,Cheaper than detergents and bleach.Hypo-allergenic-great for sensitive skin.

Reduces scale,rust and lime build-up in washing machines and pipes,elinates mold,bacteria and odors.

Designated use:for washing mechine, wash all kinds of clothes,leave clothes with a clean scent,you can also use fabric softener or dryer sheets.

For better efficiency,place washing ball in the sun for a few hours every month to regenerate ceramic mioro beads.
I find these laundry balls to work for me.  It took me a bit to get used to the idea that there was not a scent in the clothes after being washed.  Also if I am washing things that have urine or feces in them I just do a rinse cycle in the wash before actually washing them with the laundry balls.  They are listed on Amazon right now for $19.99 with a prime account without shipping cost and they claim to work up to 1500 washings.  This brings the price per load to be roughly $0.01 per load.  That is a great price to me!