What the heck is a Jicama and what do you do with it?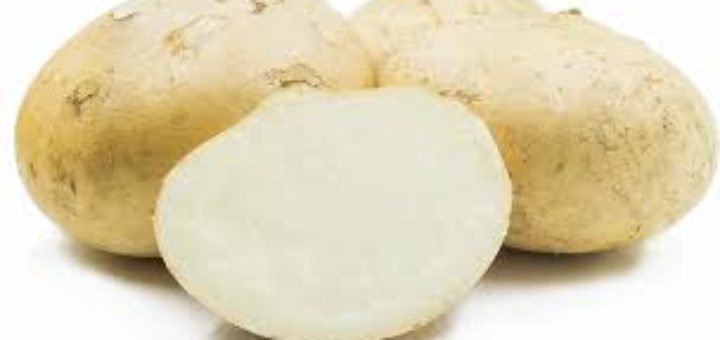 Jicama?  What is this strange brown roundish alien space ship looking thingy anyway???  Most of us don't know what it is or what to do with it.  I was introduced to Jicama years ago in an ethnic market and I had to ask the lady what it was.  From the name of it most of us would pronounce it just like it is spelled however the "J" is pronounced as an "H".  So it is pronounced "HICK-ah-mah".
Jicama is a root vegetable native to central and South America.  You probably cannot find this interesting vegetabe in farmers markets however it is sold in many grocery stores.  It has been used for thousands of years as a medicinally beneficial food as well as for dietary purposes.  Jicama cultivation began in Mexico but soon found its way to the Philippines, China, and other parts of Southeast Asia.
Jicama is a large rather round vegetable with a relatively thick skin covering it that you do not eat, however, the interior is white and reminds me of a white potato in consistency and color.  Jicama has been described as tasting like a savory apple by some people.  To me the jicama texture reminds me of when I was a kid and used to eat raw potato and slightly like an apple.  It also has a higher water content, and a slightly sweet taste.
Jicama has a surprising number of health benefits and contain a unique mixture of vitamins, minerals, phytonutrients, in addition to organic compounds including:  dietary fiber, vitamin C, vitamin E, folate, vitamin B6, pantothenic acid, potassium, riboflavin, pyrodoxine, thiamin, and minerals such as: magnesium, copper, iron, maganese.  Jicama also has a low glycemic index and so is very good for diabetics.  It is high in carbohydrates like potatoes and should be eaten sparingly if this is a concern.
Health Benefits of Jicama:
Promotes Good Digestion
Lowers Colesterol Levels
Prevents Cardiovascular Disease
Prevents Constipation
Brightens the Skin
Maintains Blood Sugar
Strengthens the Immune System
Prevents Osteoporosis
Calms Nerves and Muscles
Helps Prevent Cancer
Maintains Healthy Metabolism
Helps in Weight Loss
Prevents Anemia
Guards Against Scurvy
Promotes Healthy Pregnancy
Ok so now your sold on the idea of giving this strange unique brown thingy a try, but what do you do it or how do you prepare it?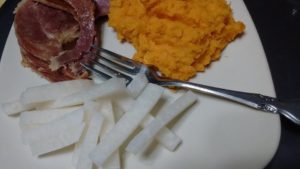 First you want to peel off all of the outer skin.  It says on the internet not to use a potato peeler but thats exactly what I do.  You can cut off each end of the Jicama first and then cut it in half so it is easier to peel.  My family likes to eat them when they look like french fries so that is how I cut them up and we enjoy eating them raw.  We had these for dinner tonight and my youngest son does not care for yams so he used the yams as a dip for the jicama.  There are many different recipes on line on how to cook them but I believe in eating as much as possible raw to keep all of the vitamins, nutrients and all of the raw live enzymes intact and to not cook them out.  The more we eat of raw foods the more our bodies can absorb all of the natural things in that food that furls the body like nothing else.  If we eat raw fruits and vegetables on a daily basis we are fueling our bodies with things it needs to stay healty and build up our immune system.
I hope you give this unique interesting vegetable a try and I hope you and your family enjoy it as much as we do!  Have a blessed day!