Hydrogen Peroxide as a natural non-toxic cleaner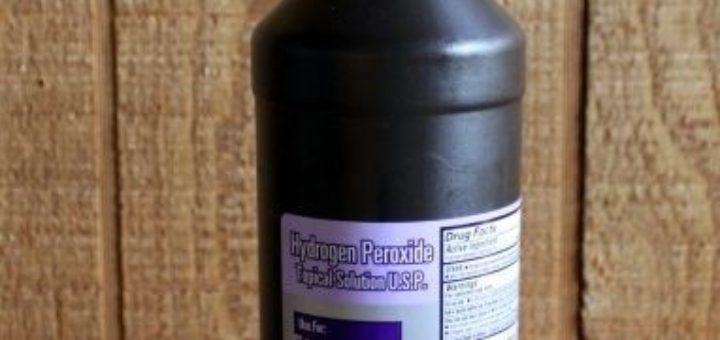 Hydrogen Peroxide is a great non-toxic cleaner I have been using for years!  It has many practical uses around the home, a part of your animal husbandry, and in the garden.  Hydrogen peroxide is a safe and inexpensive.  I just take a spray bottle nozzle from a clean spray bottle and screw it on top of the hydrogen peroxide bottle(you will most likely need to cut the spray nozzle tube to fit inside the hydrogen peroxide bottle) and it can be used it in numeros ways.
What is hydrogen peroxide exactly?  According to Wikipedia it is defined as:  is a chemical compound with the formula H2O2. In its pure form, it is a pale blue, clear liquid, slightly more viscous than water. Hydrogen peroxide is the simplest peroxide (a compound with an oxygen–oxygen single bond). It is used as an oxidizer, bleaching agent and antiseptic.
Here are some of the ways I use hydrogen peroxide in my home.
In the kitchen
Hydrogen peroxide can be used to disinfect countertops, clean appliances, clean stovetops, clean baked on food in cookware, clean baked on food in the oven, clean and disinfect the refrigerator, clean mold in the containers that are forgotten inside the refrigerator, clean out the dishwasher, disinfect cutting boards, disinfect the dining table, can be used as a fruit and vegetable wash to remove dirt and pesticides by adding 1/4 cup to a sink full of cold water (place vegetables or fruit in the sink and rinse them around in the water and then rinse them again in just water), and to disinfect dish clothes and sponges and used in mop water to clean floors (1 cup in hot mop water).
In the bathroom
Hydrogen peroxide is an awesome general bathroom cleaner!  I love it!  It can be used to clean the toilet bowl and the entire toilet, bathroom walls, mirror, bathtub, tile or shower stall, disinfect toothbrushes, used as a mouthwash, and cleaning out the bathroom trash can.
Around the home
Hydrogen peroxide is a great general wound cleaner, treats nail fungus, cleans floors, windows, trash containers, removes blood and some stains from carpets, cleans and disinfects pet accidents, cleans walls, and treats mold and mildew.
In the laundry
Hydrogen peroxide is an excellent food and blood stain remover.  All I do is spray the area I want to treat with the peroxide and let it sit for a while.  If it needs more I spray on more before washing the clothes.  It can be used on all types of fabrics from delicate curtains to table cloths to towels and wash cloths, to any type of clothing.  I keep a bottle next to my washer.
Because hydrogen peroxide decomposes when it is exposed to light, it needs to be kept in a dark bottle or placed in a dark spray bottle.  It needs to be kept away from being exposed to light so that it retains all of its chemical composition.
With all of the expensive chemical cleaners on the market and not knowing exactly what they are made up of, I personally feel a lot better about using more non-toxic cleaners that I know don't contain chemicals that may harm me, my family and my pets.  Hydrogen peroxide is a cleaner I can feel good about using.