20 Herbal Teas you can grow yourself!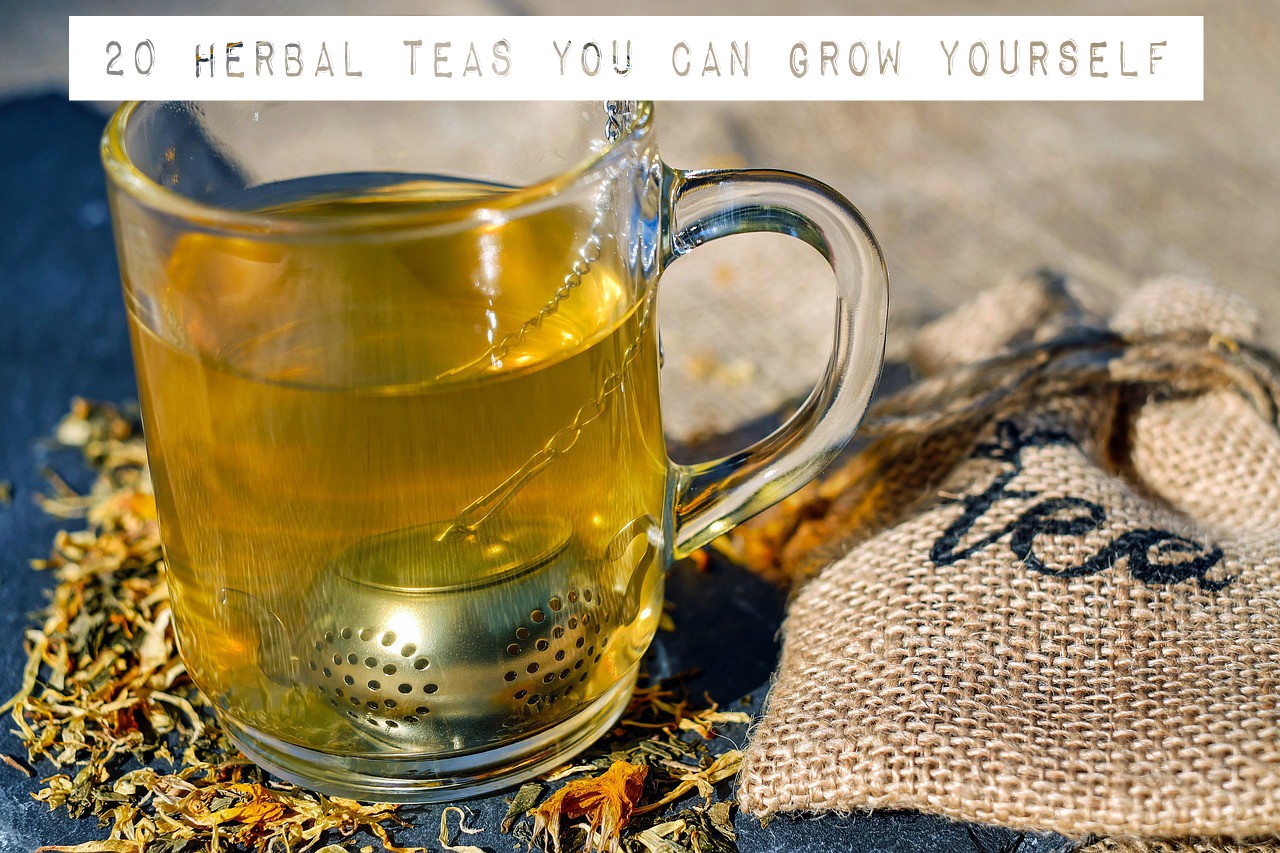 Growing your own herbs for tea is very satisfying. Many of the herbs discussed here are perennials so you can plant them once and they keep on growing year after year which is awesome! Herbs for teas are easy to dry on your own and can be stored long term or enjoyed fresh infused in water for a refreshing summer drink.
Many herbs have medicinial benefits as well. Another benefit to growing your own herbs for tea is that you are in control of how they are grown and if you choose to grow them without chemicals you can be assured you are growing herbs as natural and chemical free as is possible.
If you live in an apartment and cannot have an outside garden many of these herbs can be grown indoors in pots in a sunny window.
Here are some herbs you can grow at home either in your garden or in many cases indoors in a pot in a sunny window:
Annise Hysop-Anise hyssop was used medicinally by Native Americans for cough, fevers, wounds, diarrhea. The soft, anise-scented leaves are used as a seasoning, as a tea, in potpourri, and can be crumbled in salad. The purple flower spike is favored by bees who make a light fragrant honey from the nectar.
Basil/Tulsi-you can consume this herb in a variety of ways.  It can be used as a fresh herb, or dried and made into tea.  Tulsi has amazing health benefits.  It is used as a relaxant, anti-inflammatory, aid with congestion and respitory conditions, it boosts the strength of the immune system, stimulates kidney function, and aids in detoxifying the body.
Bee Balm-has traditionally been used to treat colic, colds and fevers, digestive tract issues, antibacterial issues and the lemon scented oil can be used to scent soaps.
Bergamot (fruit)-is used as an antioxidant, anti-depressant, it helps improve digestion, and also has antimicrobial properties.
Borage-relieving stress, fighting insomnia, reducing inflammation, normalizing hormone levels, detoxifying the body, improving immunity, preventing cardiovascular problems, reducing fever and soothing coughs,aids in alleviating menstrual cramps, and aids in fighting cancer.
Catnip-the most important health benefits of catnip include its ability to calm restless sleep, relieve stress and anxiety, soothe menstrual pain, eliminate eating disorders, and ease stomach discomfort. It also helps speed up the recovery from fevers and colds, detoxify the body, reduce inflammation throughout the body, and also speed up wound healing.
Chamomile-its essense is of calm and tranquility.  As a tea it is useful to treat insomnia, boosts immunity, treats colds, reduces muscle spasms and menstrual pain, reduces stress, and sooths upset stomach.  Topically it is useful to treat cuts, wound and skin conditions, lightens skin, reduces acne, anti aging, sooths sunburn, reduces under eye circles, and gets rid of dandruff.
Ginger-is among the healthiest spices on the planet.  It has been used to help digestion, reduce nausea and help fight the flu and common cold, ginger has powerful anti-inflammatory and antioxidant effects, highly effective treatment for nausea, may reduce muscle pain and soreness, ginger may have powerful anti-diabetic properties, treats chronic indigestion, significantly reduce menstrual pain, reduce cholesterol levels, may improve brain function and protect against alzheimer's disease, and helps fight infections.
Jasmine-reduces risk of heart attack, strengthens the immune system, aids in the prevention of diabetes, prevents cancer, improves the digestive process, and lowers cholesterol levels. It has also been found to eliminate harmful bacteria and to ease chronic inflammation.
Lavendar-it is so widely used due to its wide range of applications, from food and fragrance, to cosmetics and medicinal properties.  Lavendar is full of essential oils that have powerful effects on the human body and has the most used essential oil scents in the world.  Some of its abilities is to relieve stress, improves mood, promotes restful sleep, lowers skin irritations, prevents infections, reduces inflammation, eliminates dandruff, and soothes stomach bloating.
Lemon Balm-is an effective treatment for cold sores, using lemon balm can be helpful in treating dementia and memory loss related ailments, insomnia and anxiety, antioxidant, lemon balm can reduce the impact of exposure to radiation, improves stomach problems and indigestion and bloating, alleviates muscle pain and aches, boosts immune system,  topically it can treat skin inflammation, treat oral infections, fresh lemon balm can be added to salads, lemon balm can be used to repell and eradicate insects from your home, and can also be used to freshen your home.
Lemon Verbena-some of the most fascinating health benefits of lemon verbena include its ability to protect muscles, reduce inflammation, boost the immune system, calm the stomach, reduce fevers, soothe nerves, and clear up congestion. It is also popularly used for weight loss0.
Marjoram-treats digestive problems such as nausea, flatulence, stomach cramps, diarrhea and constipation.  Marjoram can also be used as fresh or dried and added to dishes to flavor.
Mint-there are many varieties of this herb.  It is very refreshing and has some very useful benefits.  Mint aids in digestion, reduces pain, and eliminate inflammation. It relaxes the body and mind, cures bad breath, aids in weight loss and boosts the immune system.
Moringa-Moringa is gaining more popularity and is being called "the new superfood".  It fights free radicals, fights inflammation, reduces diabetes symptoms, protects the cardiovascular system, supports brain heath, protects the liver, contains antimicrobial and antibacterial properties, and speeds in wound healing.
Red Raspberry leaves-this is an amazing plant that can provide both food as well as medicine.  Raspberry leaf is most noted as an aid for womens health.  Raspberry leaf has a number of health benefits, including increasing fertility in women, boosting the immune system, protecting the heart, decreases inflammation, supports a faster metabolism, regulates hormones, and prevents nausea and other gastrointestinal issues.
Rose Hips-Rose hips can be used as food or made into a tea.  Rose hips can be made into jams, jellies and syrups.  Rose hip tea has many properties that can safeguard against disease.  Rose hips are rich in vitamin C and flavonoids, which are noted for their antioxidant effect. Antioxidants help prevent diseases related to oxidation, such as heart disease, arthritis and cancer. They also inhibit damage caused by free radicals, which play a role in premature aging.
Stevia-health benefits of Stevia include its ability to aid in weight loss, lowers blood pressure, helps to control diabetes, prevent certain forms of cancer, protects oral health, builds strong bones, and skin care.
St. John's Wort– the most impressive health benefits of St. John's wort include its ability to treat depression, improve mood swings, relieve anxiety, reduce the severity of pre-menstrual symptoms, ease addictive tendencies, regulate hormonal activity, prevents cancer, protects against viral infections, reduces inflammation, and soothes the nervous system.
Thyme-some of the main benefits of thyme tea include relieving menstrual cramps, soothing indigestion, promoting cognitive strength, aiding sleep, preventing infections, boosting the immune system, protecting against chronic disease and treating respiratory conditions.
Herbs can be easily dried for long term storage and use.  At my farm, many of these herbs are grown for fresh culinary use as well as being dried for teas.  I add new varieties every year for our uses.  Several of these that are not grown in my growing zone are growing in pots in my home such as Moringa.  My moringa plant grows amazingly well indoors and is an attractive plant.
I hope you will consider growing some of these herbs and be able to enjoy them yourself.
If you like this article and want to enjoy more articles about being more self sufficient, please sign up for our free newsletter.  Thank you for reading this article and I hope to be able to share more beneficial articles with you in the near future!