Adding dairy goats to your farm or homestead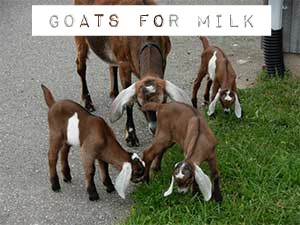 Goats are interesting and sometimes very entertaining animals. Goats have many purposes and have been utilized for thousands of years for many purposes. Goats can provide us with: milk and milk products, meat, natural weed and brush eaters, fertilizer, pets, 4-H animals, or for showing purposes.
Before I bought goats I did tons of research online to determine what I wanted to do with them. All of the animals on my farm/homestead have to serve a purpose to supply my family with something. Either meat, milk, or offspring that I can sell to provide cash to operate the farm.
Since I have 4 children living at home and we were currently buying milk, my first though was to purchase dairy goats. There are many varieties of dairy goats including, Alpine, Nubian, Saanen, Oberhalsi, LaMancha, Nigerian Dwarf, and Toggenburg. I always want to make the best possible use of money and be sensible. With 4 kids at home and 2 adults I wanted a goat that would produce a large quantity of milk. Since we liked to purchase whole milk I wanted that milk to be similar. After reading the butter fat contents of the milk, and the amounts of milk the different dairy breeds produce on average, I decided that Nubian dairy goats would be my best option.
One thing I learned pretty quick is that if you purchase a dairy goat from an individual who doesn't milk or keep goats for their large volume of milk, is they don't weigh the milk (best way to determine how much a goat produces is to weigh it) and that they really can't tell you how much that goat produces. And also sometimes they just allow the mother to feed her offspring and never utilize that goat to provide milk for their family or home use.
Another challenge I encountered, is if an adult goat that you buy is in milk but has never been hand or machine milked your in for a real challenge. Goats that have not been trained to be milked are not real keen on someone attempting to milk them for the first time. I went through a lot of challenges. The first nubian goat I produced had only been milked by hand a few times because the lady that had her only used the goat milk to make goat milk soap. That goat did not enjoy being milked at all and after going through that milking process she only produced not quite one quart of milk. That was very disappointing to say the least. She did not produce nearly the amount of milk for the cost of what it took to feed her.
After learning the hard way, I finally purchased 2 bottle baby nubian doelings from a dairy. The lady who owned the dairy counted on large quanties of milk which she used to make Chevre goat cheese to sell and that was her only source of income. She did not keep goats if by the second freshening (second time having babies and in milk) were not producing at least a gallon of milk (which in weight terms would be 8 lbs.). She culled all of the does that did not produce at least 8 lb by the second freshening and only kept the ones that did. Which to me meant the bottle babies first of all were very friendly to people because they depended on me to feed them and were going to be easier to handle. Secondly, that meant that if their mothers and possibly grandmothers produced at least a gallon of milk by their second freshening, that they had a better chance to be able to produce the same amount after their second freshening. If you have to pay for feed for a goat, and even if you have pasture you cannot pasture feed your animals during the winter if you live in a colder region, then that goat has to be producing enough to justify the cost of feed. My nubian goat milk is really creamy and not goaty tasting at all. If goat milk is handled properly you will not have the goaty taste and most people would never know they were drinking goat milk.
Once my 2 bottle babies were old enough to breed they each had babies. One of them had twins, and the other one had a single kid. Both were easy to train to milk on a milk stanchion and after just a few attempts to hand milk they were comfortable being milked. Each of them produced a fair amount of milk even on their first freshening and they are both due to kid this June of 2018 so I am excited to see what this freshening is going to produce in both the milk as well as in the new offspring.
These goats are awesome and I can utilize their milk as well as having their offspring to sell to help buy the feed they require. I love my Nubian goats!